.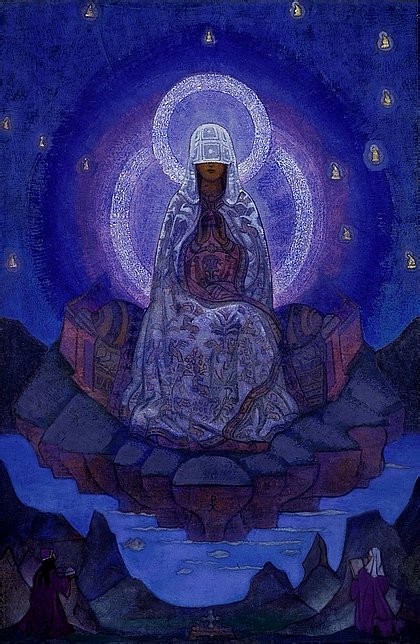 .
MOTHER OF THE WORLD
Nicholas Roerich
.
We offer prayer and gratitude to the universe,
as we are the universe seeking to
express itself in order to know itself.
.
NAMASTE
.
A special Embodiment Crop Symbol celebrating our sacred connection with the life force; a human network of love, light and energy born at the center of our hearts emanating throughout all of creation through shared hands.
Look deep within, into the vast chambers of the sacred human experience where you can discover a powerful sense of clarity and understanding of our shared purpose.
As we gaze across the magnificent landscape of Gaia we see many structures built throughout the ages honoring our connection to the divine. Temples, pyramids, and ceremonial centers aligned perfectly with the stellar landscape above, the leylines and meridians of the Earth below, and the sacred geometries omnipresent within. Yet these structures although truly great, hold naught a candle in comparison to the perfect symmetry, alchemy, consciousness, and inner potential of the human spirit.
Are we the final prayer…the final offering of gratitude by the universe to the universe?
We are the next evolution of the prayer.
There is no "final" prayer.
All of life is a cycle, with a new beginning showing itself at the close of every end. The mandala's that we create directly represent this. Remember the scalar model of the universe … these orders of magnitude nestled within each other but all working together in order to make up the reality that we know.
For example, all of our cells act within the community of our bodies just like all humans act within the community of Earth to co-create the collective consciousness.
This Crop Mandala is an open reflection of the scalar model.
These are profound times of transformation, and now is the time to share with the world our greatest gifts of healing.
.

.
The upper Yod represents the hidden (infinite)
aspect of God called ein sof ("without end")
where as the lower Yod represents the revelation of God
.
In the middle portion of the Crop symbol the letter Y is clearly "seen" magnified
Y is Yodh … to some it is a representation for GOD
A Yod is also called the Finger of Fate, Finger of God or the Projection Triangle
We are reaping what we sow … adjustment and awareness,
and adjustments in life sometimes require out of the box approaches
.
.
TRIQUETRA
.
THREE FOLD KNOT :
.
THE MOTHER
LAND, SEA, SKY
.
.
Ammersee (Lake Ammer),Bavaria, Germany.
Reported 18th July.
.
Lake Ammer … LAKE … WATERS OF LIFE
.
Weilheim-Schongau (Germany) – As early as July 18th, 2014 balloonists discovered a new large and complex crop circle formation in a field near the Ammersee in Bavaria. The last report of a crop circle formation in this area was in  2012 near to Andechs  This new one stands out even more by its geometrical complexity and size.
The formation was discovered  in the early evening hours by the crew of a hot air balloon of Landstetter ballooning
.
.
.
.